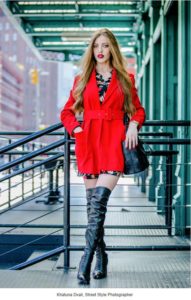 Click on images below to view.
2 hours Street Style Photo Shoot $500
This is a 2 hour Photo Session at several location within NYC. The locations,will be selected by our photographer, Khatuna Dvali. You will be given directions on what you need to do, so she can get that perfect picture. You can bring several outfits. You will receive 10 fully edited and retouched high-res JPG images. Retouched images are selected by our photographer Khatuna Dvali. All images taken will be available to you, for free download from our password protected client gallery. Images will be ready for you within 3 weeks ( or as soon as possible) You also have the ability to order prints and gifts directly from our online client photo gallery.
NYC Life, Street Photography
To see our gallery of pictures, please visit our sale web site. www.nyc-photo-tours.com